Ontop of Copper Mountain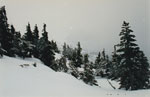 It was a cool -3 degrees C., drizzling and not a lick of snow on the ground. Where do you go when there is no snow? Just look up, way, way up........up the mountain trails where the snowmobiles go. Well packed trails leading you into the alpine.
I had planned on leaving my main leader (Kiska) at home today, but who could say no to those sad blue eyes. If she were to vibrate anymore her bones would rattle loose. So with seven of my trusty Siberians off we went to climb 4100 ft.
We rolled into the parking lot as we usually do, dogs screaming, truck rattling and gear piled to the roof top. There we saw two snowmobile's coming into the parking lot from the trail. They nodded at us and we continued to make noise as I unloaded the sled and hooked the dogs up. As I hooked my last dog onto the sled I decided to walk ahead and see which way the trail went. We were on the only strip of snow that wasn't melted yet, this led us to the trail entrance. There was a fork in the road and I wanted to make sure there was no confusion on which trail to take. With seven fresh dogs and one being a rookie, I wanted to be sure there were no mistakes, at least as few as possible.
A short prayer and we are off. Before you can say this is a snap, we are going straight up hill and there is a one runner strip of snow to follow. Finally, there is enough snow to put the other runner down on the trail. There were several kilometers of road like that, but with a leader with a good head, we bounced from strip of snow to strip of snow. That's my Kiska, she would prove to be my most valuable sled dog on this trip.
We huffed and puffed (actually I did all the huffing and puffing) our way up. We finally came to a steel shed and once around the corner, it went from rain to snow. The dogs and I were so excited that we forgot how tired we were and ran several yards. Sanity returned, we resumed our slow plod upwards. Every once in awhile we would get spurts of energy, these became more frequent as it became cooler with more and more snow. I had the camera with me and every once in awhile there would be a break in the clouds, the view was like looking out a plane window. I kept putting off taking any photos, hoping to take them on the way down.
The trees were bigger and the snow was deeper. I kept telling the dogs we were almost there, finally we arrived at what looked like the top of the mountain, there were so many trails, they were everywhere. It was breathtakingly beautiful, we slowly made our way up to what looked like a pull over spot and caught our breath. My cue to go are my the wheel dogs, they bounce, scream and tug when its time to get going again.
So far we haven't run into any snow machines on the trail, but we knew there were one or two up here somewhere. There was one other truck in the parking lot with a snowmobile trailer. I was hoping to avoid them as much as possible, I really didn't want to have one come up to us full speed and possibly run into us. I'm sure they had no idea we were up there and were not expecting to see a dog team up there..... at all.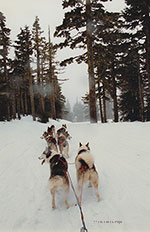 We traveled on what looked like the main trail, it was so beautiful and the fact that it was pouring rain farther down and this pristine alpine up here. WOW! We were in sledding heaven. Oh, Oh, so much for peace and quiet, there was the sound of a machine coming. With all the hills and dips it was hard to pinpoint where it was actually coming from. I decided to trust the dogs, their hearing is so much better than mine and they soon had it figured out just where it was coming from. Sure enough, there he came down a steep hill straight towards us, engines roaring and snow flying. Cross your fingers, he spots us!